Senior Member
Join Date: Feb 2017
Posts: 458
Quote:
The M package is definitely what I have hopes for. Special limited trims, I doubt it.. even if they do bring something like that out, it'll be for the higher end X I would think
Now they just need to continue doing more exciting things, much like what they did on the 3-Series.
Can't let GLA owners have all the fun.
Treatment similar to the follow 3-Series M Performance Package will go a long way on the X2: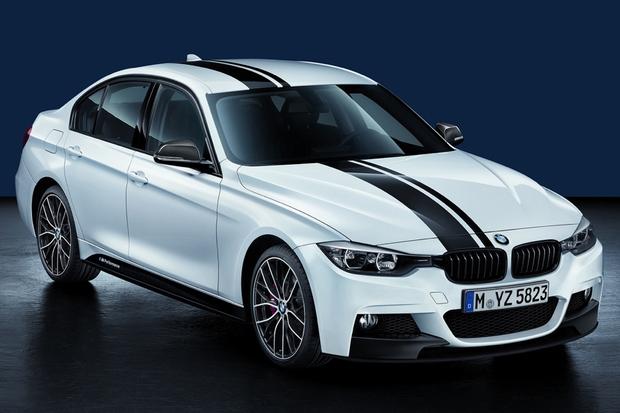 Quote:
M Performance 20-inch wheels are largest available for 3- and 5-series.
Brembo brake kit and sporty-sounding stainless exhaust among available upgrades.
BMW factory warranty covers upgraded parts.

Just a few short decades ago, BMW's high-performance M vehicles were slightly more powerful and sporty versions of popular 3 Series and 5 Series sedans. But since then, a horsepower war has broken out among the world's performance automakers, and BMW has responded with a lineup of M vehicles with terrifically powerful engines and supercar performance stats to match. The gap between BMW's everyday vehicles and its ever-expanding M lineup has been widening, both in terms of price and performance, even as the model line has been expanded beyond sedans to include coupes and SUVs as well.

To fill the gap, BMW offers M Performance Parts, a group of equipment upgrades that adds M hardware and styling to non-M models. Now, BMW has expanded the M Performance Parts to the 3 Series and 5 Series vehicles, allowing owners to pick and choose upgrades without committing to the high cost of full-blown factory M models.

M Performance Parts available for the 5 Series and recently redesigned 3 Series include equipment intended to improve the vehicles' handling prowess and its aesthetics, too. Some parts, like the available 20-inch forged alloy wheels, do both. Available for both the 3 and 5 Series, the rims' lightweight construction reduces unsprung weight to improve handling. A two-color treatment, with a turned finish on the face and a gray painted finish between the spokes, provides an athletic look.

Less likely to be seen but just as crucial to improving performance are the Brembo brake kit and the stainless sport exhaust. The former brings larger, cross-drilled and slotted brake rotors at all four corners. Four-piston front calipers and two-piston rears replace the stock equipment, and a red-painted finish keeps the upgraded stoppers from hiding. The discerning eye will notice the available stainless exhaust with its chrome-plated 80mm tips, laser-engraved with the "M" logo. But those not looking will certainly hear the difference. With reduced backpressure, the exhaust note is louder and more powerful than the stock sound.

Should 3 and 5 Series drivers prefer a sportier look in the cockpit, the M Performance carbon fiber and Alcantara interior trim set fits the bill. Carbon fiber accents are finished in matte lacquer, while suede-like Alcantara - a material found in many of the world's top sports cars - includes the "M Performance" logo. An available carbon fiber shift knob with an Alcantara boot can be fitted to both manual transmission and automatic models.

These M Performance Parts upgrades for the 3 Series and 5 Series are a more economical way to spice up your BMW without springing for the full-blown M products. Unlike with some aftermarket parts, they also include a warranty of up to 4 years or 50,000 miles, adding peace of mind along with enhanced performance and sportier styling.
Posting Rules

You may not post new threads

You may not post replies

You may not post attachments

You may not edit your posts

---

HTML code is Off

---